Types of Transportation in Dubai
Dubai is renowned for its world-class roads and public transportation system. It's a stunning metropolis with countless attractions, activities, and locations to explore. From air-conditioned buses, trams, metros, boats, taxis, and even helicopters - visitors have plentiful options for mobility around the city. Keep reading to uncover the essential facts of transportation in Dubai to journey efficiently and economically.
1. Dubai Bus
Experience a seamless travel experience through the "Dubai Bus" network in Dubai! With 136 brand-new buses operating daily, public transport has never been more accessible. Enjoy air-conditioned comfort and accessibility for wheelchairs and baby carriages, all at an affordable price - you can even stay connected with free WiFi on board. Treat yourself to convenience today with Dubai Bus!

Conveniently, every bus stop provides printed directions, including specific routes and schedules. Moreover, each location features a real-time electronic display board to inform passengers of their travel plans promptly.
2. Dubai Metro
The Dubai Metro debuted in 2009 with the introduction of its first line - today, there are two main lines: red and green. Since Dubai completed the Expo 2020 line, the city is one step closer to meeting the goal of four complete lines equipped with 99 five-car trains. For now, Dubai Metro proudly holds the record as having one of - if not THE most extensive driverless metro lines worldwide!

The trains are divided into three sections: Gold Class, Women and Children, and general. The golden metro ticket offers you an exceptional experience. You will be seated in the VIP section of the train and enjoy incredible views while on your journey and more space for added comfort. There are also exclusive cabins for women and children who wish to travel separately or need extra space for bags and strollers. The last segment of the train is composed of standard carriages. Despite a tendency towards overcrowding, these coaches are modern and comfortable to travel in.

Regardless of which cabin you ride, all trains ensure a cool, comfortable ride, where passengers can benefit from air-conditioned interiors set to 20°C year-round. And don't worry about struggling up steps and ladders! Every station has escalators for easy access and travelators at every transition adding convenience.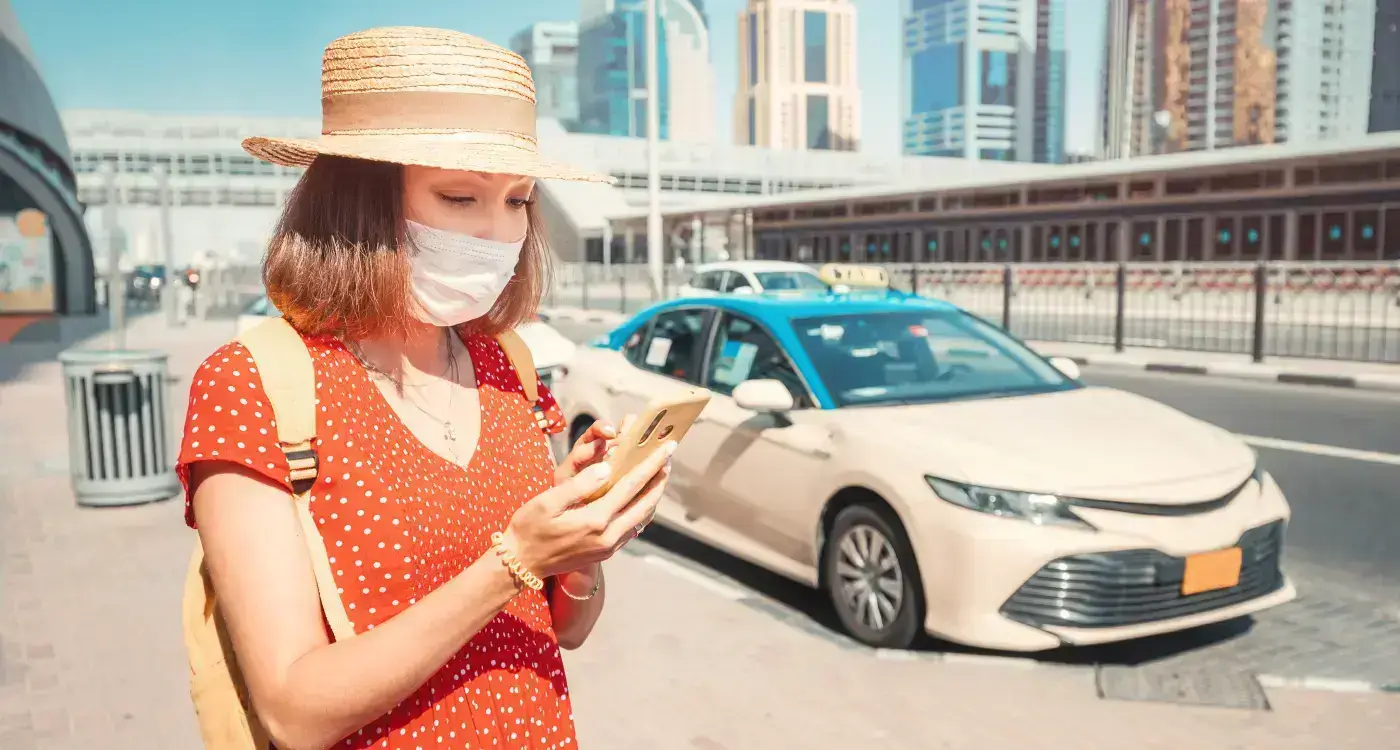 3. Dubai Taxi
When looking for a taxi in Dubai, it's essential to know that all vehicles are licensed by the government and have similar appearances. Travelling via cab within Dubai is a good idea because of its affordability and comfort. They also have Ladies' Taxis if female passengers prefer a female driver. The ladies' taxis are distinguishable by their pink roofs.

Whether in Dubai or travelling between each Emirate, Uber and Careem are the ideal ride-hailing apps for an economical trip. But if your journey is solely within Dubai, taxis provide a more affordable option than their competitors.
4. Dubai Tram
Embrace the convenience of Dubai Tram- a modern, comfortable and stylishly designed tramway that passes through 11 stops from Jumeirah Lakes Towers to Damac Properties. Despite its short length, it's the perfect way to explore all the vibrant Dubai Marina area has to offer!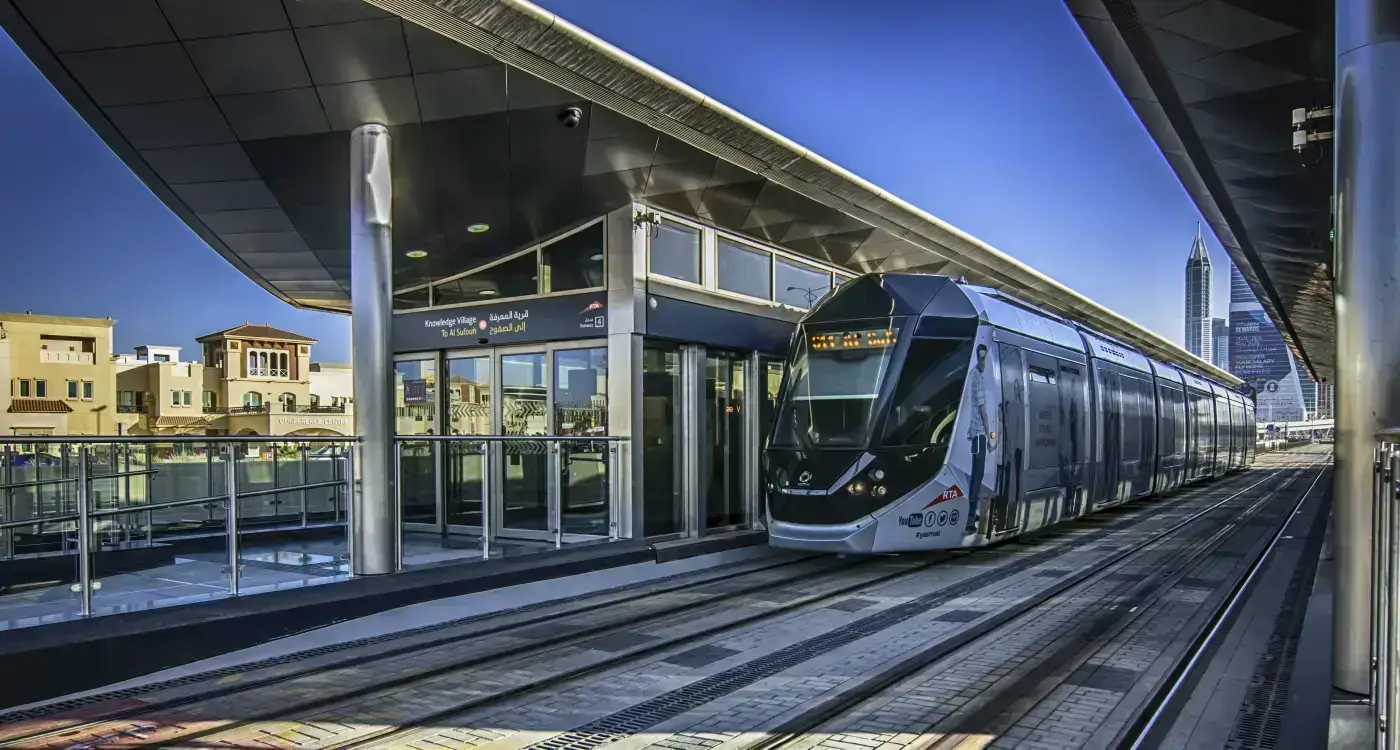 And best of all, rides are surprisingly affordable - pay for your ticket at any one of the orange mini-terminals near each stop. Hop on board today and experience why so many locals love this unique transportation option!
5. The Palm Monorail
Introducing the Palm Monorail, a fun journey along Dubai's iconic Palm Jumeirah Island. Taking you from one impressive landmark to another in driverless trains, this is the Middle East's first monorail and a unique way of exploring the stunning Arabian coastline. Each train contains attendants for emergencies so you can enjoy your trip with total safety assurance. From Atlantis at one end to the Palm Gateway Station at the other - take advantage of this chance to see it all by monorail! Experience the unforgettable sights of Palm Jumeirah from our monorail with five convenient stations - Palm Gateway, Al Ittihad Park, Nakheel Mall, The Pointe and Atlantis Aquaventure Waterpark. With affordable tickets for such a fantastic opportunity to explore one of Dubai's most renowned attractions, why not book your ticket now? You can easily purchase yours at any station or online here.
6. Boats in Dubai
Those looking for unique yet affordable transportation in Dubai should consider taking an Abra. These traditional wooden boats are perfect for up to twenty passengers and only require the payment of one Dirham to the driver upon boarding. From Deira Old Souk across Dubai Creek into Bur Dubai or from Al Sabkha towards the Old Souk - no matter where you need to go, Abra water taxis can make it happen.
7. Helicopter
Tourists and locals in Dubai are privy to a unique form of transportation - helicopters! Countless tourism companies offer the "Dubai Helicopter Sightseeing Tour," providing awe-inspiring views of iconic landmarks, such as Burj Khalifa, Palm Jumeirah and Burj Al Arab. Passengers can also take in breathtaking sights like Godolphin, Business Bay, Dubai Canal beaches and The Dubai Marina from above with this experience! Dubai's progression towards the future is nothing short of astounding. Every day, residents are amazed by the city's transportation advancements - a sentiment that stands true with Palm Jumeirah Monorail in particular. Seeing this magnificent landmark firsthand will undoubtedly leave you speechless; now, let us show you around!