Unforgettable adventures: Top places to go with friends in Dubai
A glittering oasis in the desert, Dubai is known for its grandeur and endless entertainment. Here, you can check out plenty of exciting experiences. If you've got friends seeking a new adventure, Dubai is the place to be - from the thrill of beachfront dining to the pulsating energy of rooftop pool parties.

Explore the top places to go with friends in Dubai and build lifelong memories in this vibrant, cosmopolitan city.
Club Vista Mare: A Beachfront Dining Haven
If you're looking for impressive places to visit with friends in Dubai, Club Vista Mare deserves a spot on your itinerary. Located along the coastline of the Arabian Gulf, this location is renowned for its stylish beachfront dining spots.

Each restaurant at Club Vista Mare offers a unique dining experience, providing a diverse range of cuisines to indulge in. Whether you're in the mood for the robust flavours of Mediterranean fare or the fresh appeal of a seafood feast, you can savour these delicacies while also indulging your senses in the stunning views of the azure waters.

Club Vista Mare's lively atmosphere and regular live music events create an ideal setting for a delightful evening with friends. Indeed, it stands as one of the most enjoyable destinations in Dubai.
Here are a few of the restaurants at Club Vista Mare:
Ibn AlBahr - Bib Gourmand winner renowned for its diverse seafood offerings
Ría Restaurant and Beach Bar - A laidback luxe haven for those seeking wholesome Mediterranean cuisine
Rumba Dubai - Get transported to the 1950s Havana at this restaurant serving up Cuban food, drinks, dance and music with beachfront views
Tap House: An award-winning gastropub with casual vibes, beachfront views and global cuisine
Logs & Embers: American smokehouse BBQ that is known for tender meat and seafood fresh off the grill
Myrra: A restaurant experience that transports you to the islands of Greece and Spain with exceptional dishes
The View at The Palm: Spectacular Skyline Vistas
For stellar panoramic views of Dubai's majestic skyline, The View at The Palm is an unparalleled destination. Situated at the top of the Palm Tower, this observation deck offers an unrivalled vantage point to marvel at the city's architectural triumphs.

Here, you can soak in the breathtaking vistas of Dubai's glittering skyline, which includes the world-renowned landmark of Palm Jumeirah. Capture these unforgettable moments with your friends against the mesmerising backdrop of the cityscape. If you're a photography buff, The View at The Palm is a must-visit. Make sure to have it down on your list of places to go with friends in Dubai.
Aura Skypool: Dazzling Pool Parties Amidst the Clouds
Take your Dubai experience to new heights by indulging in the exhilarating pool parties at Aura Skypool. Perched atop the iconic Palm Tower, this trendy hotspot provides a luxurious setting where you can swim, dance and socialise with friends.

The vibrant atmosphere, buoyed by upbeat music and stunning views, makes Aura Skypool a premier destination for friends seeking a memorable outing. Sip on refreshing cocktails, soak in the pool's glittering waters, and enjoy the high-energy beats that echo amidst a buzzing crowd. For an unforgettable daytime adventure, check out Aura Skypool for a luxurious place to go with friends in Dubai.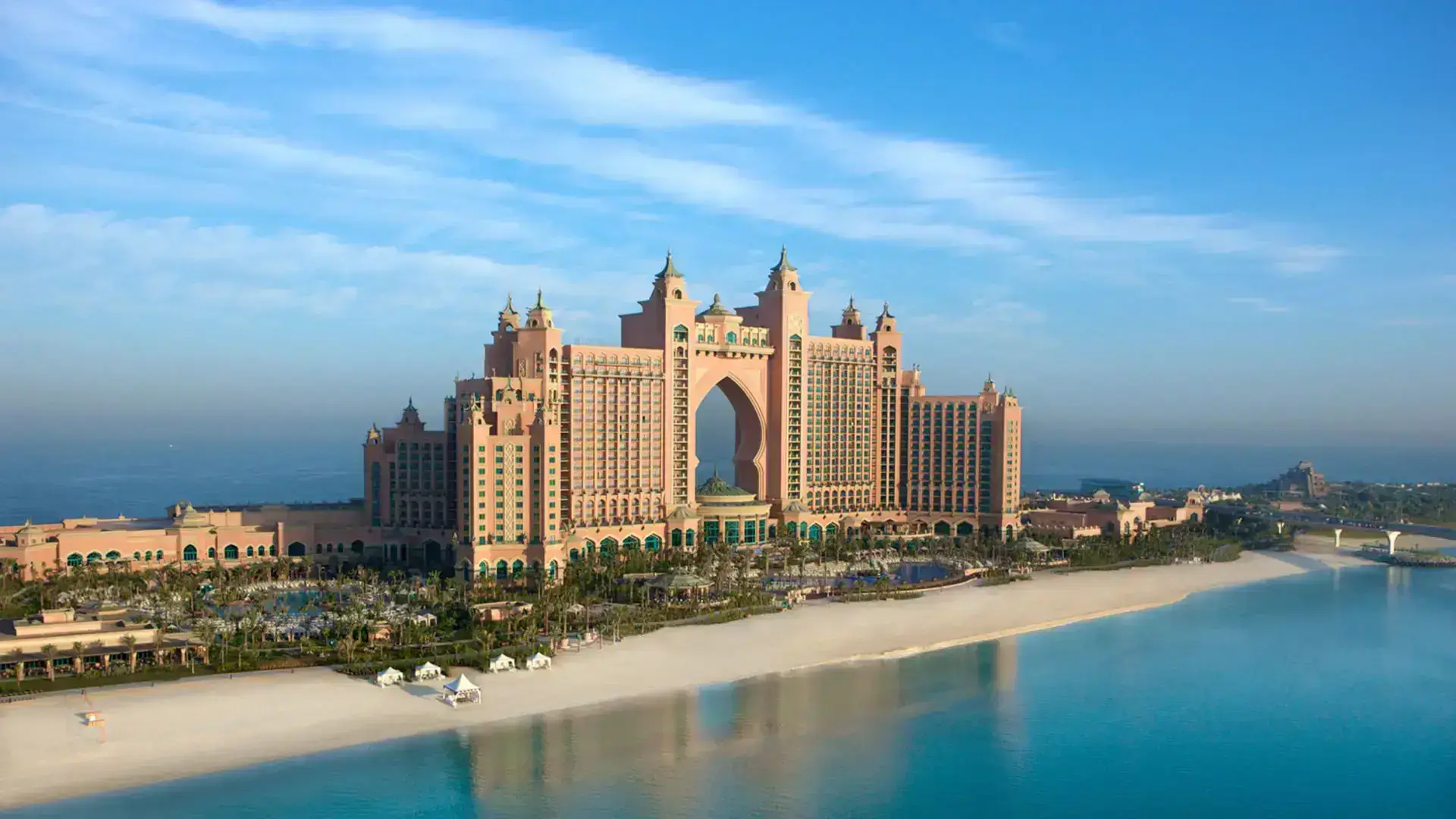 Atlantis, The Palm: An Underwater World of Wonder
Immerse yourself in enchantment and adventure at Atlantis, The Palm. This world-renowned resort offers many exhilarating experiences for friends to explore and enjoy. Dive into the depths of the Ambassador Lagoon, an underwater habitat home to beautiful marine life.

Experience the thrill of the water slides at Aquaventure Waterpark, or unwind at the pristine private beach. With many dining options, nightlife venues, and entertainment choices, Atlantis, The Palm, guarantees an unforgettable escapade with friends, making it a fun place to go with friends in Dubai.
Palm West Beach: A Tranquil Beachfront Escape
Another destination to consider for places to go with friends in Dubai is Palm West Beach. This beachfront locale, nestled on the crescent of Palm Jumeirah, offers a serene escape from the city's hustle and bustle. Palm West Beach is a popular hangout spot, boasting 1.6km of clean sandy beach and crystal-clear waters. The location is also dotted with trendy restaurants and beach clubs, each offering delectable dining options and refreshing beverages.

As the sun sets, Palm West Beach transforms. Twinkling fairy lights adorn the palm trees, creating an enchanting atmosphere, while live music fills the air, inviting guests to relax and enjoy the vibrant nightlife. Whether you're seeking a relaxing day under the sun or an animated evening with friends, Palm West Beach is an experience to cherish.
Reflecting on the Palm Jumeirah Experience
With its diverse attractions and experiences, Dubai is an ideal playground for friends seeking thrilling adventures. From the beachfront dining haven of Club Vista Mare to the dazzling pool parties at Aura Skypool, each location offers a unique and unforgettable experience.

Whether you're admiring the skyline from The View at The Palm or exploring the underwater wonders at Atlantis, The Palm, Dubai promises to create lifelong memories with your friends.
Next Stop: More Dubai Wonders Await
As you conclude your unforgettable adventures with friends in Dubai, remember there are still more wonders to explore. Whether you're planning to visit the famous landmarks, delve into the city's vibrant nightlife, or unwind on pristine beaches, Dubai has it all.

For those looking to explore Palm Jumeirah, don't forget to hop aboard the Palm Monorailthe best way to traverse this iconic destination. So, gather your friends, embark on new journeys, and let Dubai captivate you.