The Biggest Waterpark in Dubai: Atlantis Aquaventure!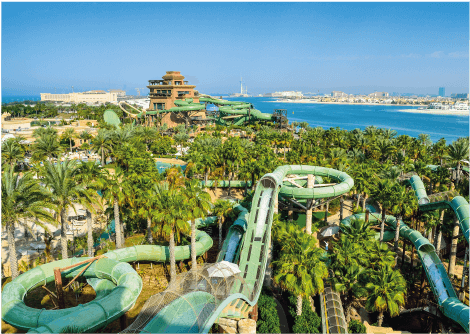 Are you looking for a break from an ordinary day? Want a spot to unleash your true spirit? If you want to release your energy, waterparks can be a great escapade to indulge in fun and frolic. Fortunately, now you have the Atlantis Waterpark in Dubai, UAE, with stunning views right by Palm Jumeirah. The Atlantis Aquaventure experience is fun without compromising safety or comfort.
What Is Atlantis Aquaventure?
Firstly, Atlantis Aquaventure is one of the world's largest waterparks! The Atlantis Aquaventure Waterpark is packed to the brim with thrilling rides guaranteed to get your blood pumping. The name stands for "aquatic adventure," as embarking on these fun rides is nothing short of an exhilarating adventure set in an aquatic environment. Embark on an underwater adventure and feel the stress of your everyday life just wash away. Have a day of family fun and enjoy your visit to the new Atlantis.
The Atlantis Aquaventure is one of Dubai's prime tourist spots. Even for people living in Dubai, the Atlantis Waterpark is a regular destination that can turn a dull day into the most fun experience of your life. Now you may wonder, if water parks are meant for kids, how can adults enjoy a day in a waterpark? The Atlantis Aquaventure Waterpark is suitable for the whole family promising fun to every age group. No matter how young or old you are, the Atlantis Waterpark hosts rides and experiences that can tickle the fancy of anyone.
Fun Times at Atlantis Aquaventure
The Atlantis Waterpark has it all covered, whether you simply want to relax by the waves or enjoy a gravity-defying slip and slide. If you're on the fence about taking a day at the water park or need to convince someone why it's a fantastic day trip, here are some of the top reasons to go to Atlantis Waterpark:
You get to experience childlike joy:

As children, every day was an adventure filled with fun and new experiences. The Atlantis Waterpark promises to encourage playfulness and childlike joy by offering various rides. Forget the boring old worries of your adult life and soak in youthful exuberance for a day in one of the biggest water parks in the world.

Get a day away from your everyday problems:

When ingrained in our day-to-day life, minor issues in our work or personal lives may seem earth-shattering. Experiencing a day away from the day-to-day chores among people present just for one purpose: to have fun. Adjust your priorities and understand that your problems seem smaller than they are.

Spend quality, fun time with your family:

Experiencing the same adventures create new bonds among people and even strengthens friendship and companionship among family members. From the delicious food to the exciting activities, the waterpark can be a great place to bond with your friends, family, acquaintances or even strangers.

Take a break to bounce back:

A fun-filled day and adventure clears the mind. When you get back home tired from the day's activities, you get a good night's sleep and are fully rested and recharged for days ahead with a fresh mind, rejuvenated body, and fun memories; what more could someone ask for?
What can I expect at Atlantis Aquaventure?
Now that we've tackled reasons to take a day at the Atlantis Aquaventure water park, you may wonder what you can expect when you finally visit. Here are some of the best rides the Atlantis Aquaventure Waterpark offers, which are an absolute crowd favourite.
Leap of Faith

This is a ride that is certainly not for the faint-hearted. If you like to flirt with danger, the leap of faith promises to deliver a death-defying experience safely, following all precautions. The almost 30-metre water slide is an unmissable ride for those who like adventures. You will travel at a speed of a thrilling 60 km per hour in 3 seconds and plummet through a tube, and is guaranteed to give you an adrenaline rush.

Shark Attack

In this Atlantis Waterpark attraction, you can experience what it would be like to live among sharks. Set your feet inside a tube and experience a 360-degree view of the underwater world of sharks.

The Rapids

Enjoy an adventure like no other! The Rapids is a 1.6-kilometre river adventure ride with gushing rapids that send you twisting and spinning through raging torrents with thrills around every turn to deliver an adrenaline rush, an exhilarating ride that puts the adventure in Aquaventure. If you want a relaxing day, there are by a variety of large pools with spacious sun decks available. Pick a spot, lay back, and enjoy the tropical waterscape of the Atlantis Waterpark.
Get Atlantis Aquaventure Passes Today
A day in the Atlantis Waterpark can be a memorable day that you will cherish for years to come. Take a day with friends, family, or loved ones to enjoy the thrilling rides and spots around the park. Don't forget to take in the incredible views of Palm Jumeirah, an outstanding sight, even for locals and residents.
Need more information about the best days to visit or how to get your passes? For more details, reach out now.